Business directory websites are fairly popular online. Every vertical has its own well-known directory website for customers and clients to discover businesses, read reviews, and more.
With WordPress, it is very easy to create a business directory website. There are many plugins that allow users to create business directory websites with great ease. It doesn't thus require a lot of technical knowledge to build a business directory. Having a working knowledge of WordPress is enough.
The problem is promoting a directory website. More and more people are discovering what they need on apps. Preference for apps over websites is also growing. Mobile websites are great, but they aren't technically as accessible and fast as native mobile apps.
You can build a directory website, but without having a mobile app for it, you risk losing out on a large chunk of mobile users.
Apps are important. How do you build them?
As discussed earlier, building websites is easy. Platforms like WordPress make it very easy for businesses to start and develop websites.
Apps are not exactly the same. Website owners are often wary of launching apps because of the associated costs. This is not to mention the overall complexity of developing mobile apps.
These issues may seem overwhelming, but they can easily be bypassed with a reliable mobile app builder. What are app builders? If you don't want to code your app from scratch, you can choose to use an app builder.
App builders essentially allow you to create mobile applications without coding. You can find a lot of tools online that allow you to create ready-to-publish apps.
If you already have a website, it's a good idea to consider converting it into an app. AppMySite is one tool that enables you to convert WordPress and WooCommerce websites into powerful mobile apps.
As a WordPress website owner with a directory site, you can use make your own app with this tool.
The following sections show how to build an app for your business directory website.
Convert your business directory website to a mobile app – A guide
There are many tools you can use to convert your site to a mobile app. For this guide, we will use AppMySite to create an app. To start create an account on AppMySite and enter a few basic details about your app and website.
The first step is to design your app.
#1: Setup the appearance of your app
The way your app looks means everything to its success. It is also the first thing an average website owner thinks about when creating an app in the first place.
On AppMySite, you can easily customize the way your app looks. Additionally, you can manage the navigation on some crucial app screens to make the overall experience smooth.
Here's how it works. Once you arrive on the dashboard, you can go to the Appearance module. Here, you will find five crucial elements and screens of your app that you can design:
App icon: Icons are essential for the success of an app. Users tend to remember apps by the design of their icons. On AppMySite, you can either upload an icon of your choice or design one with the options available.
Splash screen: Splash screens are intermediary loading pages that appear when an app is loading. You can design it on AppMySite with the design options available or upload your own background and logo for it.
Onboarding screens: Every app has a set of login and sign-up screens for new reasons. You can design them using the design options available. Additionally, you can upload your own artwork for elements like the screen background and logo.
Color theme: Every app or website has a certain brand color scheme for consistency. You can set this up for your app by setting a color theme for your app header and buttons.
Home screen: Home screens are the first app pages users see when they launch the app. You can easily customize the sections you wish to display on your home screen.
Once your design is complete, you can next connect your website and app.
#2: Auto-populate your app with your website content
A well-designed app needs content. Otherwise, it is simply an empty vessel.
This is why it is important to connect your website and app. Once a connection is established, your app will automatically sync with the content of the website.
So how do you connect your website and app?
Install the AppMySite plugin: Install and activate the AppMySite plugin on your WordPress website. The process is fairly simple, and once the plugin is active, simply verify the connection in your AppMySite connection.
Generate Application Password: Generate a WordPress Application Password in your WordPress Panel. This option can be found in the Users module of your website's admin panel. Once the password is generated, paste it into the designated field along with your admin username.
After establishing the connection, your app will be populated with content from your website. This includes your website's pages, posts, products, categories, and other types of content.
#3: Sync custom post types to the app
If you have a directory website based on WordPress, you probably use third-party plugins. Most directory plugins essentially create custom post types (CPTs) within your app. The directory pages on your website are basically a customized version of posts.
AppMySite provides support for custom post types. If you have directory-based CPTs on your website, you can sync them to your app.
How can you sync them to your app?
First, you need to add your directory CPTs to the primary menu of your WordPress website. If you choose to sync your primary menu to the app, the CPTs will be synced automatically.
Additionally, you can choose to enable webviews for post screens within your app. This will ensure your directory pages appear on your app exactly as they do on your mobile website.
#4: Test your app on Android & iOS emulators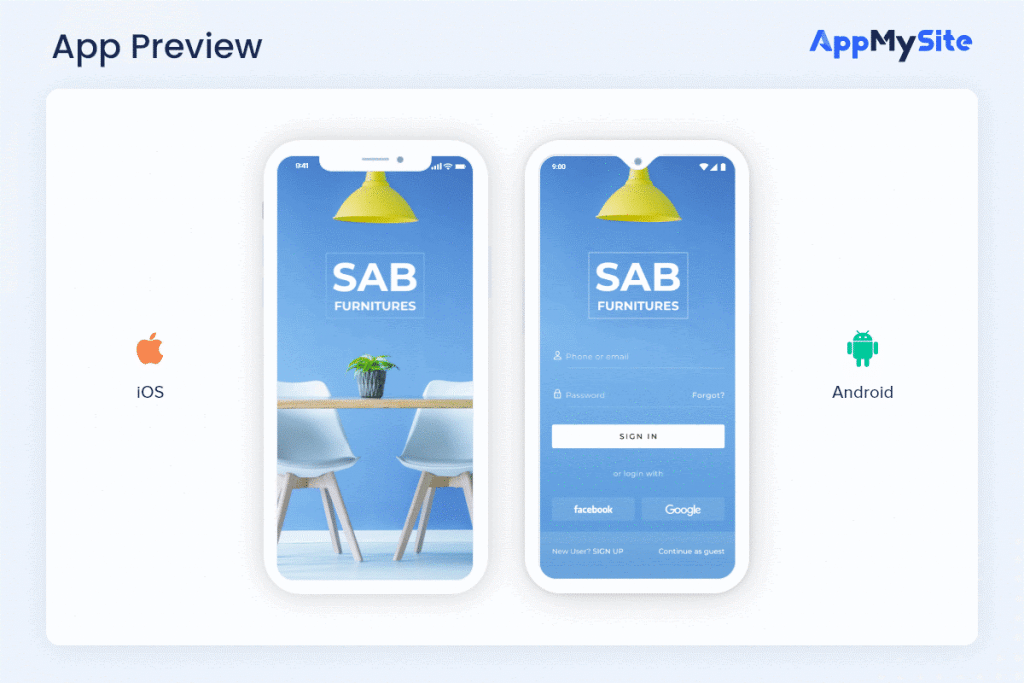 Once all your website content is synced to the app, you can preview your app. AppMySite enables you to test your app on both Android and iOS device emulators.
Both these emulators are available within your account. They allow you to fully preview how your app looks and works.
In the preview module, you will be able to view your website content in an app environment. Furthermore, you can navigate between different app screens and see if the app's working is smooth and frictionless.
If you find issues with the design, you can always go back and make the changes you'd like.
You can choose from multiple device options for both Android and iOS emulators. This gives you a chance to see the app's responsiveness in an app environment.
#5: Download your app and submit it to the app stores
In the final step, you can download your app from your account. If you plan to publish your app to the app stores, this is an important step.
To download your Android app, simply generate a build to start the process. Once the build is ready, you can download the APK and AAB files.
For downloading your iOS app, you need to first enter and upload some essential information from your Apple developer account. Once this is done, you can generate a build for your iOS app and download your IPA file.
You can submit the iOS build to your Apple developer account and go live on the App Store.
In conclusion
Directory websites are a great way for businesses to get discovered online. By creating an app for your directory website, you can additionally reach a large number of mobile users and grow your audience. In this article, we cover exactly how you can create an app for your directory website on WordPress using a free & powerful app maker. Follow the steps discussed here to publish an app on the app stores.