The advent of technology has changed our lives greatly. Now we cherish convenience and simplicity when choosing from a variety of possibilities. And that's the reason why e-learning is so popular today. In a nutshell, e-learning is the form of conventional studies delivered online. Over the last decade, it has solidly settled in the educational industry and has become a new standard.
What is so special about e-learning is that it implies high flexibility and availability. Electronic learning doesn't treat learners with a one-size-fits-all approach and doesn't put them under the pressure of time limits. That is a self-paced process based on the needs of individuals. Ultimately, e-learning is a valuable asset when it comes to business.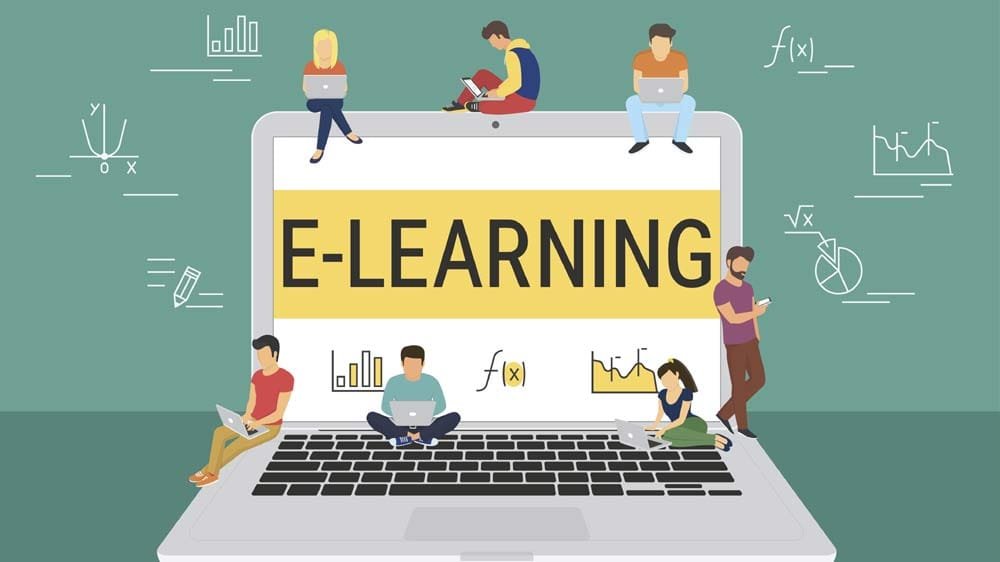 In the context of a digitally developing world, e-learning appears to be quite a profitable industry. There are plenty of e-learning websites that offer the same courses but in different ways. As the global e-learning market expands, with each new input, it becomes harder to stand out. Some employ app-based learning for better customization – some incorporate much video content for higher engagement. However, there is a set of features that should comprise almost every e-learning platform. And neglecting them might lead you to failure.
1. Great content
Content plays a paramount role in the success of your e-learning website. Most online learners want to get relevant, top-quality education. Besides, they expect it to be full of top-notch points. Digital media is what you need here. Icons can help you to sort the information. The animation is a powerful visualization tool that is able to simplify complex ideas and retain attention. Images dilute the textual clutter, while videos stimulate brain activity and stir the imagination. All in all, when crafting your e-learning website, make sure the content you provide is both educational and visually appealing.
2. Responsive design
Since online learning means flexibility and convenience, enable your course with these features. Keep in mind that not every learner will feel comfortable using a laptop. Some prefer learning on tablets or smartphones. Make sure your e-learning website runs well regardless of the device used. Adhere to a responsive design approach. Thus, you will maintain consistency and provide all the users with the same comfort and benefits of online learning.
3. Quick and seamless user integration
The process of registration is the first experience one undergoes when interacting with your website. It should be as smooth as possible so as not to discourage and alienate your potential customers from applying. To avoid unfavorable impressions, provide easy access to your e-learning content. The contemporary design suggests efficient solutions for making the registration both pleasant and easy to manage. One of them is a variety of WordPress LMS themes that can be customized according to your needs. This experienced and tested software ensures quick and polished signing up.
4. Efficient administration and data analytics
Administering and monitoring are vital for every e-learning course. Analyzing the course performance helps instructors to trace the progress and fix pain points. The website should allow to collect the data and store it in one place for easy access. Most LMSs offer dashboards for a full overview of the key performance indicators, making the tracking process more efficient. By keeping a close eye on how students manage, additional resources can be incorporated whenever required. It contributes to the improvement of the overall e-learning process.
5. Assessment management and feedback for learners
Apart from analytics for website administration, there should be the possibility to trace the progress for the students themselves. Involving regular tests during the course helps learners to evaluate their performance and see how the learning goes. That allows them to understand if they can move on or return to previous stages to refine. Here, providing students with feedback is crucial. Some learners might not see the problem unless someone shows it. Feedback helps students to get the big picture of their current progress. And that is the best way to provide them with an impeccable experience.
6. Versatile learning techniques
Your platform should enable various types of learning for broader engagement. Some students are visual learners – some prefer textual materials. Then, incorporate textual materials along with visual ones, online sessions, and webinars. That will help you to make the e-learning process customizable and versatile.
7. Social interaction
Apart from webinars and sessions, you can create a place for your learners to share experiences and ask for feedback and support. Establish the website's forums and chats where the learners can connect. Here, allow users to ask and answer questions, discuss, and review. That way, you manage to create a pleasant environment around your course and bring collaboration to another prolific level.
8. Asynchronous learning
Some of your learners can skip webinars or lectures due to some circumstances or merely differences in time zones. Asynchronous learning allows students to access the content regardless of the time and place constraints. You can keep the content in the cloud always available for reviewing. It makes the learning process holistic and your e-learning website user-friendly.
9. Motivation
Every learning takes motivation and a sense of progress. You can incorporate completion and evaluation rates after every lesson. Also, make use of inspirational visuals that have some emotional connotations. Periodic motivation triggers are powerful enough to keep your learners always inspired.
10. Easy and secure payment methods
Making it simple for your customers to pay for the course is crucial. Online payments can be insecure because of unreliable payment gateways. Thus, make sure you employ only protected and reliable payment paths your customers know. Here, don't use redirections and ask for essential information only. It ensures that your e-learning website is trustworthy and user-friendly as well.
Keeping these points in mind will help you to create an excellent e-learning website. Not only will it be aesthetically appealing, but also functional and secure. With these practices, you can create a seamless experience for your learners and urge them to be loyal customers.